Professional Development
LifeNet Health is committed to advancing health care education by offering instructor-led, continuing education (CE) programs to our health care partners. Our focus is organ and tissue donation and transplantation. Topics include an overview of the process, allograft tissue safety and use, how to care for those who are affected by donation and transplantation, compassion fatigue, and more. There is never any cost.
Below you will find a summary of all our instructor-led, CE programs, along with learning objectives for each. Many of these are offered as webinars through our Donation 360 series. If you are interested in attending, please check our webinar schedule. If the education you need is not scheduled, please email us at LNHCE@lifenethealth.org.
 

Allograft Tissue: Facility Regulations and Requirements — 1.0 CE
List several types of allograft tissues used in hospital settings
Explore various organizations that affect allograft programs
Explain the effect of current Joint Commission standards on a hospital's policies
Compare and contrast hospital procedures with standards of practice
Compassion Fatigue: Reclaim the Joy of Caring — 1.0 or 3.0 CE (also American Board of Mediolegal Death Investigators, ABMDI, credit approved 1.0) 
Gain a theoretical understanding of the history and causes of compassion fatigue and burnout in order to identify personal risk factors & symptoms, as well as their personal and professional impact. 
Be able to discern healthy vs. unhealthy caregiving
Identify the challenges of thwarting compassion fatigue nd the strengths that enable the individual to minimize burnout
Identify methods to incorporate learnable skills, a self-care plan, prevention, and interventional strategies to enhance resilience and healthy change
Conscious Communication (1.0 CE)
Understand and describe how listening facilitates effective communication during stressful situations
Recognize and cultivate thoughtful verbal and non-verbal language when communicating with others
Consciously implement techniques that improve communication, decrease stress, and increase workplace satisfaction
Cryopreserved Cardiac Tissue: Overview of the Process (1.0 CE)
Describe the process for organ and tissue donation
Have knowledge of donation criteria specific for cardiovascular tissues
Understand the clinical applications for donated cardiovascular grafts
Understand the process of preparing cardiovascular tissue for transplantation
Discuss the clinical implications for handling cardiovascular tissue in the OR
Cultivating Resilience (1.0 CE)
Summarize resilience and the impact it has on an organization
Determine your own personal resilience rating
Identify strategies and resources that support resilience
Apply resilience-building strategies to recover and recuperate quickly from challenging situations
Grief & Loss — 2.0 CE
Outline personal grief factors 
Describe the six needs of mourners
Recognize the factors which contribute to complicated mourning
Distinguish the recognized acute symptoms of grief and methods of response
Describe skillful listening guidelines
Determine risk for compassion fatigue and create self-care response
Session includes a Discovery Workbook for independent study.
The Donation Process — 1.0 CE
Describe the donation continuum
Explain consent and authorization for organ and tissue donation 
Summarize the steps in the recovery process
Identify donor eligibility for the donation of tissue
Tissue Banking Past, Present and Future: Expanding Opportunities for Donation —  1.0 CE
Gain knowledge of the utilization and advantages of transplant tissues
Learn about some highlights in the history of tissue transplantation
Review the donation process and the advances in tissue preparation and the benefits for tissue recipients
Gain insight into the types of organs, tissue, and cells that expand the opportunity for donation through research applications
Tissue Transplantation: Ensuring Safety — 1.0 CE
Outline allograft tissue processing steps
Discuss the difference between aseptic processing and sterilization
Explain the significance of Sterility Assurance Level
Contrast various sterilization methods used for human allograft tissue
Understand the effects of sterilization methods used for allograft tissue on patient outcomes. 
Wound Healing Essentials — 2.0 CE
Summarize the goal of wound healing
Outline various skin antiseptics for surgical prepping an open wound
List various surgical preparation options for wounds
Review and recommend grafting options for wounds
Describe nursing perioperative and postoperative impact on wound management
Session includes independent study guide. 
More information
For more information on any of our educational offerings or to schedule a program, please contact LNHCE@lifenethealth.org 
Listed continuing education programs are sponsored and funded by LifeNet Health.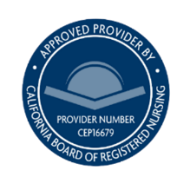 LifeNet Health is an approved provider by the California Board of Registered Nursing (CEP16679). LifeNet Health is prohibited from awarding education credit hours for professionals licensed by the states of Vermont or Massachusetts. Lecture participation is welcomed, but please return all materials to a LifeNet Health representative. LifeNet Health also reserves the right to prohibit licensees from other states as necessary for legal compliance.